Carla Heidtman
Office Manager
Carla is a native born El Pasoan who has over 40 years experience in the medical field. She attended El Paso Community College and UTEP. Her knowledge ranges from the starting up and Management of different Specialist's practices to include; Cardiology, Plastic Surgery, Urology, Internal Medicine, Radiology and Family Medicine as well as diversifying herself as a Marketing Manager and Health Coach for Fitness Works Wellness Center.
She worked as the Residency Secretary in the Department of Internal Medicine and an Administrative Assistant in the Department of OB/GYN at Texas Tech University – El Paso for 6 years, before working in Nursing Administration at Sierra Medical Center. Carla was also the Director of Medical Staff Services at East El Paso Physicians Medical Center.
Carla became Dr. Lee's Office Manager in September 2012. She attributes the successes in her career to her strong interactive, communication and organizational skills.  She is focused on excellence in job performance and teamwork to offer patients a professional, comfortable and friendly place to be seen.
---
Violeta Reyes
Supervisor/Marketing Coordinator
Violeta is a mother of two boys. She graduated from Riverside High School in 2005 where she participated in the JROTC program including the Color Guard and Unarmed Drill Team. Violeta completed her basic education classes at El Paso Community College, Valle Verde Campus and attended UTEP with a Major in Spanish and Minor in Translation.
After working in the Pharmacy at WalMart she developed a special interest in the medical field and decided to pursue a career that would always be in demand. She attended Kaplan College for Medical Office Specialist Program while still working at the pharmacy. Violeta completed her Externship hours at Dr Lee's office and due to her skills, professionalism and friendly demeanor she was hired as the Receptionist. In November 2016, Violeta will have been working for Dr. Lee for 4 years.  In December 2016, she was given the position as Marketing Coordinator.  She loves her job and sees her co-workers as family. In the future Violeta would like to expand her knowledge and return to school to further her education.
Violeta departed the office for a short while to gain experience in the management field and returned back to Team Lee as a Supervisor in April 2018.
---
Michelle Mora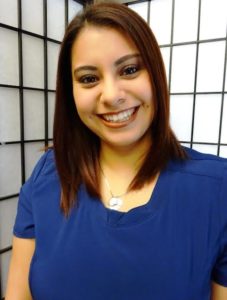 Medical Assistant/Business Assistant
Michelle is the proud mother of 2 children and was born and raised in El Paso. She attended El Dorado High School and graduated in 2007. She continued her education at Career Centers of El Paso and became certified in insurance processing.
She has worked in the medical field for 10 years, both in Home Health and the Durable Medical Business. As Michelle wanted to further her career in the medical field, she enrolled at Western Tech where she graduated with several certifications. Michelle completed her Externship here at Dr. Lee's office and due to her professionalism and caring demeanor with our patients; she was hired as the Medical Assistant/Business Assistant. Michelle would like to continue her education and pursue a nursing career in the future.